e-HongKongGuide
e-HongKongGuide is a Hong Kong official electronic map book developed by the Survey and Mapping Office of the Lands Department and is free for non-commercial use. It contains an interactive storytelling map and a collection of electronic maps.
Storytelling Map
This year's edition features the harbourfront promenades. An interactive storytelling map showcases 21 promenades, each comes with a short introduction, scenic photos, old and recent photomaps, and a timeline to enable the public to understand the transformation of the harbourfront promenades.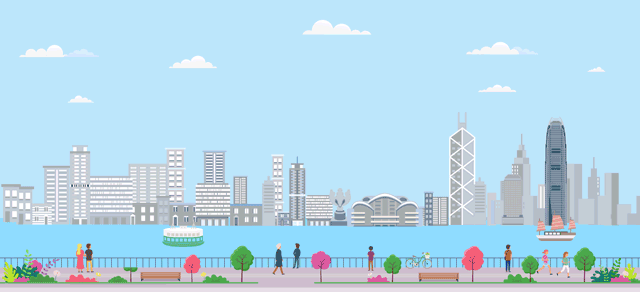 Download Complete Set
Before downloading the maps, please read the copyright notice.
Item
File Size
Download

e-HongKongGuide 2023 - July 2023 Edition

(include 105 Street Map pages, 13 Small Scale Map pages and both Map Index, Whole Territory Map, Index Contents, Railways Network and Strategic Routes Map, Legend, with updated information on estate and major infrastructure in July Edition)



578 MB

Download

Product Feedback Form
Download Individual Map
Download Individual PDF
| Item | File Size | Download |
| --- | --- | --- |
| e-HongKongGuide 2023 Index Contents | 15.3 MB | Download |
| e-HongKongGuide 2023 Leaflet | 3.9 MB | Download |
| e-HongKong Guide 2023 User Guide | 13.0 MB | Download |
| e-HongKongGuide 2023 Legend | 0.9 MB | Download |
| e-HongKongGuide 2023 Hong Kong Railways Network and Strategic Routes Map | 10.4 MB | Download |
| The Area of HKSAR | 4.5 MB | Download |
| Introduction of Hong Kong | 0.1 MB | Download |
| Declared Monuments | 0.7 MB | Download |
| Acknowledgement | 2.9 MB | Download |
Previous Editions
About e-HongKongGuide
Design
The redesigned "e-HongKongGuide" provides 119 detailed maps of Hong Kong in A3/A4 sizes, gazetteers of street and place names, and indexes of estates and buildings. The maps cover the whole territory of Hong Kong, with urban areas and other built-up areas represented in larger scale. Button links are provided on the maps and indexes for easy surfing on desktop computers. Maps can also be printed out in A3/A4 sizes for personal use.
Map Information
The representation of a road, track or path on the "e-HongKongGuide" map does not imply a right of way. If the transport, leisure, cultural, sport and any other information in this Guide differ from those on ground, readers should seek confirmation from relevant government departments, authorities, organizations or institutions. The map information in this Guide is valid as of December 2022.
Format
The "e-HongKongGuide" maps are in GeoPDF format which can be read on desktop computers and applications on mobile devices in offline mode. Users can easily locate their positions on the "e-HongKongGuide" maps using free map applications with satellite positioning functions. Furthermore, users can also search coordinates, text and information, add personalised images and information, and share with friends.
Users can also access the previous e-HongKongGuide editions from this website.
Application
e-HongKongGuide can be read by a number of desktop and mobile apps. The following examples are not intended to be exhaustive.
TerraGo Toolbar® (using this free desktop plugin to read the guide map);
Adobe Reader® and Foxit PDF® (using these free desktop and mobile apps to read PDF files);
Avenza Map® and Paper Maps® (using these free mobile apps to read the geo-referenced map);
TerraGo Edge 4® (using this free mobile apps to read GeoPDF®, charges is required for advanced function);
For more information and tips, please refer to the "e-HongKongGuide User Guide".
To view or print the above download document (PDF file), you need to use
Adobe Acrobat Reader software
. Please update your version of Adobe Acrobat Reader software if you have problem in viewing the downloaded PDF file.