Hong Kong Guide 2022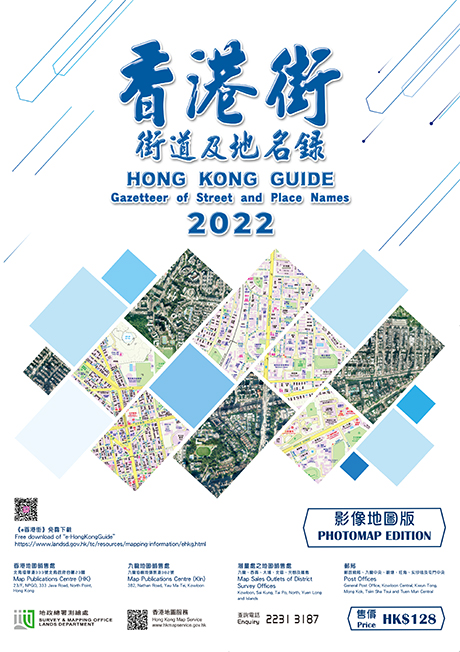 Book size : 271 x 188 x 24 mm
This year's "Hong Kong Guide" features a series of orthophotos produced from aerial photographs taken in 2020 and 2021. Every single map page is preceded by its corresponding orthophotos and labelled with major places, streets and trails, thus enabling readers to have a good and quick grasp of Hong Kong's geographic environment and the relevant spatial information.
In addition to photomaps, the new 552-page "Hong Kong Guide" provides detailed maps of Hong Kong, gazetteers of street and place names, indexes of estates and buildings, public services, as well as information on public transportation.
The "e-HongKongGuide", a collection of maps in GeoPDF format, can be read by desktop computers and applications on mobile devices in offline mode. Users can easily locate their positions on the "e-HongKongGuide" maps using free mapping applications with satellite positioning functions.
The new "e-HongKongGuide" is available for browsing and free downloading at the LandsD's website.
---
1:10 000 Street Plan
This is a street map series consisting of 59 regular sheets to cover the whole territory. It contains rich information of buildings, roads, and public facilities, with contours represented at 20m interval.
Map Index
Map Legend
---
Urban and Town Maps
Sheet size: 980 x 685 mm
Urban Maps and Town Maps are prepared to cover urban areas and new towns. They are printed in colour on both sides and are convenient street guides for general map users.
Urban Map and Town Map Index